Need help ordering a stamp? START HERE!
Nevada Notary Stamp Orders

If you would like to place an order for a Nevada Notary Stamp, please email your notary certificate to mark@nevadarubberstamp.com or fax it to 775-322-5218 . Please let us know you have ordered online when sending your certificate in. We will contact you immediately to confirm your order. Notary stamps take two (2) days to produce. The self-inking Nevada notary stamps cost $32.00.
Endorse your checks with ease with our endorsement stamps. Our check-sized stamps will carry your account name and number, your bank name, and the routing number. No need to hand-copy this information onto every check, making your business more efficient and organized.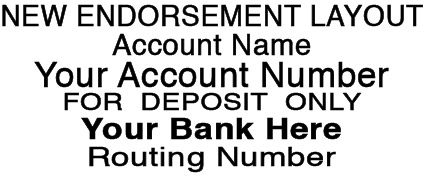 Get Ready for Geocaching!
| | |
| --- | --- |
| If you enjoy Geocaching, you should take a good look at our Stamp Mouse. The Stamp Mouse is a Small Pocket stamp that will easily fit into a daypack, a shirt pocket or hang from your GPS strap. The Stamp Mouse is perfect for signing the geocache logs. It can be customized with your initials or logos and pictures that represent you or your family. If you haven't tried geocaching, go to Geocaching.com to find out about this incredible family activity. | $30.00 |
| | |
ATTENTION: Nevada Sales Tax Exempt Customers
If you or your organization does not pay sales tax, when setting up your new user account, please check the box "Do Not Charge Sales Tax" and enter your Tax ID number in the appropriate field. Once you have done that, please fax your Nevada State Sales Tax Exemption letter to (775) 322-5218. Do not place your order until you receive verification from us that we have all of the required information. If you place your order before you hear from us, we will place your order on hold and will not proceed until all information is verified.
Thank you.